Ready to start Myfembree?
If you have a Myfembree prescription, you may already be on the path to relief. Find out how to begin, to help you get the most out of treatment.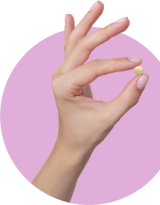 Once you get your period,
it's time to start
DO: Start Myfembree as soon as possible within 7 days of getting your period. If you start on another day, your period may become heavy or irregular for the first month of treatment, but bleeding should then decrease.
DON'T: Take Myfembree if you are pregnant or taking hormonal birth control. Ask your doctor which non-hormonal birth controls are safe to take with Myfembree.
Take 1 pill, once a day, at the same time every day—with or without food.
Myfembree should not be taken for more than 24 months.
You'll take Myfembree the same way, whether you have moderate to severe endometriosis (endo) pain or heavy bleeding from uterine fibroids (UF).
Follow your doctor's guidance and these quick tips to help you get started on Myfembree.
If you're on oral P-gp inhibitors, take Myfembree first and wait at least 6 hours before taking the P-gp inhibitor. Check with your doctor if you're unsure of whether you're on this type of medicine.
What if you forget to take
Myfembree?
Take the missed dose as soon as you remember on that day.
Then take Myfembree at the usual time the next day.
If a day passes and you didn't remember to take Myfembree, don't take 2 doses to make up for the missed dose.
Skip it—and just take the next dose at your usual time.
Getting in the

groove
of taking a once-daily pill
Pick a time that easily fits into your schedule, like first thing in the morning.
Take it at the same time as something else you do daily, like brushing your teeth.
Set a daily alert on your phone, or leave yourself a visible post-it note.
To stay on track, refill your prescription right on time and pick a new one up before you run out. Set up a phone reminder for when it's time for a refill.
If you have commercial insurance, you could pay as little as $5 a month* for your Myfembree prescription (up to $5000 a year).
*$5 per monthly Myfembree prescription or $15 for a 90-day prescription, subject to a maximum of $5000 per calendar year.
Additional Terms and Conditions apply. Click above to learn more.