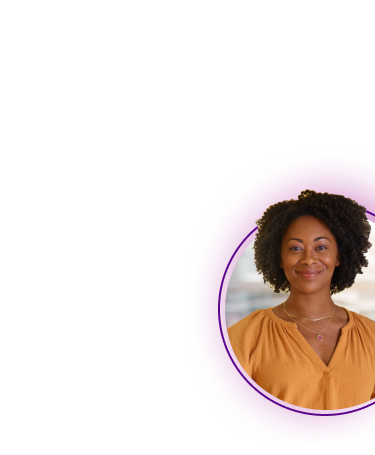 Break the cycle of heavy periods from uterine fibroids
What is
Myfembree?
The first and only FDA-approved once-daily pill proven to notably reduce heavy periods from UF in premenopausal women.
One small (8 mm in diameter) prescription pill taken once a day.
It's not a surgery, procedure, or injection.
What are the benefits of Myfembree?
Myfembree was studied and proven effective in two 6-month clinical studies in a total of 768 premenopausal women who had heavy period bleeding due to UF.
By week 24, average period bleeding went down by 84%—nearly 5x more than placebo.*
7 out of 10 women†saw their bleeding drop by at least half and to a normal level‡ or less by the last month of treatment.
On average, before starting the study, women had bleeding 3 times the normal amount of a typical period.‡
*Compared with an average 17% reduction of blood loss in the placebo group. †Compared with 16% of women in the placebo group.‡Normal bleeding is defined as 80 mL (about 1/3 cup) or less.
What you could expect
when taking Myfembree
For heavy periods from uterine fibroids
Your next period could be lighter. While the studies were not specifically designed to determine how quickly Myfembree worked, some of the women started to see a reduction in bleeding at week 4.
50% of women stopped getting their periods during the last month of treatmentin the studies.§ A majority of women saw their periods return once they stopped the therapy,‖ typically within 1-2 months.
On average, 1 in 2 women with low hemoglobin saw an increase in their levels¶ by week 24.#
§Compared with 5% of women taking placebo.
‖Based on 65 women who did not enter a post-treatment extension study or stopped treatment earlier.
¶With Myfembree, 49% of women with low hemoglobin levels at the start of the studies saw levels rise by at least 2 g/dL by week 24, vs 10% on placebo.
#Myfembree was not specifically studied in women with anemia. Hemoglobin levels in the blood at 10.5 g/dL or less may be a sign of anemia. The normal levels of hemoglobin for women are above 12 g/dL.
Understanding Possible Side Effects
In clinical trials, the safety of Myfembree was also studied.
The most common side effects
The most common side effects of taking Myfembree for heavy period bleeding due to UF include hot flushes, increased sweating, night sweats, abnormal vaginal bleeding (bleeding that lasts too long, is too heavy, or is unexpected), hair loss or hair thinning, and decreased interest in sex. Always tell your doctor if you experience a side effect that bothers you or will not go away.
Serious side effects
Serious side effects were reported in 3.1% of women on Myfembree vs 2.3% on placebo. Fibroid expulsion with heavy bleeding, fibroid prolapse, gallbladder inflammation, and pelvic pain were experienced by one person each across both studies.
Discontinuations
In clinical trials, 3.9% of women treated with Myfembree stopped taking Myfembree as a result of side effects, compared to 4.3% of women in the placebo group. The most common side effect that led to discontinuation was uterine bleeding (1.2%), occurring usually within the first 3 months of treatment.
These are not all the possible side effects of Myfembree.
How does Myfembree work?
Myfembree is made of 3 key ingredients, designed to support an optimal hormone range that promotes the reduction of heavy bleeding from fibroids.
Relugolix
Relugolix may reduce the amount of estrogen (and other hormones) in your body to help reduce menstrual bleeding.
Estradiol (an estrogen)
Estradiol may reduce the risk of bone loss that may be caused by taking relugolix alone.
Norethindrone acetate (a progestin)
Norethindrone acetate may protect the uterus from the effect of taking estrogen alone.